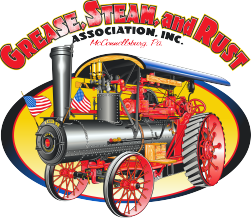 Home
NEWS
Calendar Preview
Live Facebook Feed
2017 Show Here Already!
The 37th Grease Steam and Rust show preparations are in full swing!! Lots to do in such little time!! We, the members of the GSR, are excited for what is to come this year. We are featuring Case equipment and if you or someone you know has any such equipment and would like to showcase it, please contact Matt Keller at 717-816-8969. He will be happy to help you with anything you need!! As many, both near and far, prepare to bring their prized possessions, we prepare the grounds for the arrival of such equipment. We are always happy to see many return each year and have plenty of room to showcase any other equipment that hasn't made it to our show in years past!! We welcome all to our show!! So if you have something setting around covered in dust....no need to wash, just bring it on over, we will find a spot for all to see and marvel over your treasure. No need for it to even run!! Weather you tow it or haul it, we will show it!! We have many awards to hand out and who knows maybe your exhibit will win!! Make sure you get up bright and early to line up for our parade!! You can preregister by Friday October 6, 2017 or the morning of!! For more information check out our Parade Info.
We are filling up the last of our vendor spaces. Many have returned from years past and many new have reserved spaces!! We are currently looking for the following representatives, Dip-pity Do Das, Pink Zebra, Origami Owl, Mary Kay, Miche Bags, Avon, and Pampered Chef. If you are interested please fill out our vendor application and send it in right away!! We are always looking for vendors who offer antiques, homemade goods, and more. If you know someone or see anything at other shows that you would like to see at our show, refer them to our web page!!!!
We are excited to offer an "Open Mic" stage for those interested in sharing Gospel, Bluegrass, and Light Country music. We are also extending an invitation to local school bands interested in playing. Please contact Amy Mellott 717-658-8421 if you are interested in participating in the open mic!!
For those who have a green thumb and are interested in competing in our pumpkin contest, check out more information under Contest and Rules.
Don't miss all the demonstrations "Up on the Hill". They include, rock crushing, threshing, corn shelling, hammer mill, planing, slab sawing, and bailing. With several Steam Engines on the grounds you are sure to see one hooked up by flat belt demonstrating how things were done back in the day! It is an awesome sight, sure to amaze!!!
We will have some lovely ladies from Tuscarora Kindred Spirits demonstrating spinning, and felting. There will be several wheels on display. Also there will be many different fibers there for you to see and touch. Rest assured you will see something and say "I never knew they could spin that!!"
This year we will have Dan Dailey on hand for Saturday. He will be demonstrating how to shear sheep without the use of electricity. Come and check it out!! You may have a chance to participate in the demonstration.
There will be an apple cider press making cider. For all those who need to quench their thirst, it will be available for sale. Make sure you get yours first thing!! We sold out fast last year as it was a sure crowd pleaser!!
This year we are adding a new class of tractors to the pulling line up!! The 5,500 8/12 MPH class will start the Saturday pulling events at 6:00 pm Check out the rules here. the Gate will be only $2.00 per person for Saturday. We also are hosting 10,000 lb Pro Stock Tractors. These tractors are sure to bring the crowd to their feet as they fly down the track with their engines roaring!! Be sure to get here early to get good seats as I am sure the stands will fill up quickly!! Give us a shout on Facebook and let us know if we should host they guys again in the future!!
Feel free to print off our brochure here. With 4x4 pickup pulls on Friday to the Raffle on Sunday, you will want to have a copy of our brochure to refer to so you don't miss a thing!!
Don't forget the food!! Funnel cakes, soft pretzels, pizza, and pit beef and ham sandwiches just to name a few. Soup, sweets, OH MY!!!Yum!!! Grab some good food and walk around, or take a rest on our benches while marveling at the sights!!
Admission is as follows, Friday gates open at 8 AM, admission $2. $5 after 5PM. Saturday Gates open at 8 AM with $2 all day admission. Sunday gates open at 8 AM with $2 admission.
This year we are selling tickets for a gun raffle!!! Check out the GSR booth outside the main tent so you can buy a chance at winning either a gun or one of many cash prizes!! Each ticket is $10.00!! Don't miss out on your chance for being a winner!!!
We also have hoodies, T'S, and hats for sale. They will be located in the GSR museum building.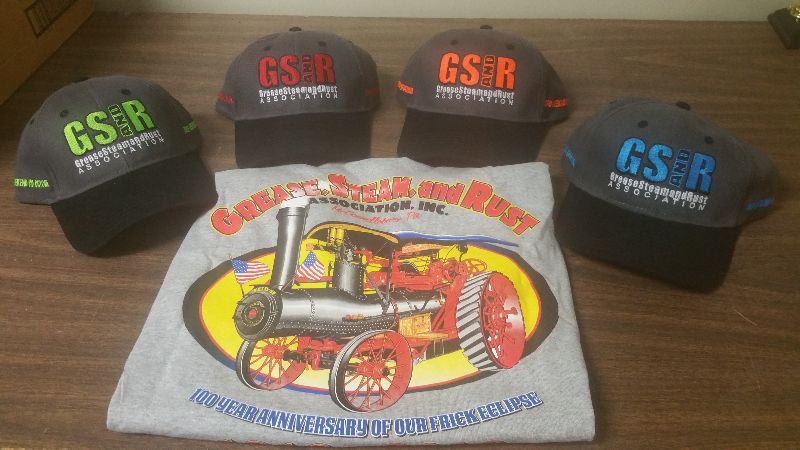 Please keep in mind to leave the four legged children at home. We all love the furry family but its best to keep them safe at home where no sounds could scare them or where feet may step on them. Service animals are welcome!!
Let's start practicing our "Nice weather dance" so we don't encounter any rain, hail, or snow!!