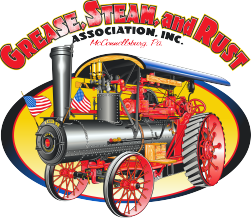 Home
NEWS
Live Facebook Feed
2016 Grease Steam and Rust Association Show Recap
The 36th annual Grease Steam and Rust Association show featuring "Oliver" proved to be a spectacular event!! Each morning was met by cool crisp air which lead to warm afternoons. The October evenings were a reminder that Fall is here. The leaves, just beginning to change on the mountain side painted a beautiful picture only mother nature could paint. Smells of food, fuel, and coal burning assault all noses that enter the grounds with no complaints.
The sounds of steam engines "popping off" with an occasional whistle and tractors growling filled the air along with the clanging and banging of demonstrations on the hill. Demonstrations included, thrashing, planing, cider press, bailing, stone crushing, saw milling, shingle milling, slab sawing, sheep shearing, and spinning, just to name a few. Among these sounds you could hear spectators talk with amazement over what they were experiencing, some for the first time while others return annually in hopes to see what they missed from years passed. With 401 tractors and 34 other non tractor exhibits, there were no shortage of sights to be seen.
Saturday morning, Main Street was closed down for our annual parade. Tractor owners sat atop their machines, proudly, as they slowly rolled through town pausing only a moment to hear their name be announced over loud speaker at the Fulton House. Waving at times to the hundreds of spectators who adorn the streets. Not a prouder moment can be felt when they hear the spectators say " I use to have one of those" or "My dad had one of those" while pointing their tractor out of the crowd. You could almost feel hearts swell as many reminisce about times from the past. Candy peppered the streets from the many floats and passing tractors. Children anxiously waited for a prime opportunity to pick up the pieces, excited to see what sweet treasures were thrown. Many school bands marched in time with the beat of the drums and wind instruments sang loudly to a carried tune. After about two and a half hours, the parade was over and the days activities were set to begin. From events on our track, demos, shopping, kid pedal pulls, or just grabbing a bite to eat from our many food vendors, there was much to do and see at the GSR show.
The night air was filled with the sounds of either tractors or trucks giving their all to move a weighted sled down the track. Enthusiastic clapping and hollering from the crowd echoed and could be heard for miles around!! With much surprise, after all pulling events, a few decided to try 4X4 drag racing. Many watched with excitement and we can't wait to see what the future of this event may be!!
Saturday night, what a show it was to see, the steam engines pulling. Red, orange sparkles rained from the sky like thousands of falling stairs. A spectacular show it was, yes indeed!!
This year was the 100th Anniversary of our beloved Frick Steam Engine. A cake was presented to Dave Frantz who has operated this fine piece of machinery since 1993. As an outstanding member of the GSR, Dave and his family spend many hours taking care to transport, run, and provide much needed upkeep to our Frick. Thank You to the Frantz family for all you do!!
Our honorary members for this year were Preston Byers (left) and Henry Beckner (right).
Preston Byers worked for the Oliver Corporation at the branch house in Harrisburg, PA. Later he worked for his brother Paul at his Oliver dealership in Chambersburg, PA. He has a rather large collection of Oliver plows dating back to the horse drawn walking plows from the 1800's. Henry Beckner worked as shop forman for many years at Paul Byers Oliver dealership before starting his own dealership in Waynesboro, PA. He and two others founded B-equip, as an Agco dealer continuing to service Oliver tractors. Both of these men were picked because of their connection to Oliver and being employees of the brand.
This year we had 65 vendors at our show!! With the wide variety of what they had to offer, there was something for everyone. Everything from tractor parts, homemade crafts, primitive gifts, antiques, and more. Many have already reserved spots for next year. Many new vendors have inquired about next year and we can't wait to see what they have to offer.
We invite all from near and far to come and find out for yourself the treasure to behold at the fairgrounds during the GSR Show!! Always the third weekend of October, you don't want to miss it!!!