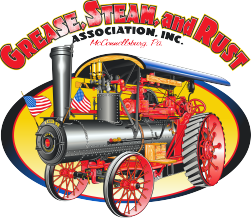 Vendor Info
Mailing Address
Grease, Steam, and Rust Association
C/O Lori Helser
1125 W Dutch Corner Rd
McConnellsburg, PA 17233
Show Dates: October 20, 21, & 22, 2017
Outside Spots –Limited 110 electric available @ $15.00 for weekend
10 x 10 Number of Spots _____________________ x $15.00
10 x 20 Number of Spots _____________________ x $20.00
20 x 20 Number of Spots _____________________ x $40.00
Inside Spot – Has Roof With Open Sides (Includes electric which is lighting, some spaces have electrical sockets)
8 x 13 Number of Spots _____________________ x $35.00
10 x 10 Number of Spots _____________________ x $35.00
10 x 20 Number of Spots _____________________ x $70.00
8 x 16 Number of Spots _____________________ x $45.00
8 x 20 Number of Spots _____________________ x $60.00
10 x 12 Number of Spots _____________________ x $42.00
Inside Spot – Has Roof With Enclosed Sides (Includes electric which is lighting, some spaces have electrical sockets)
8 x 13 Number of Spots _____________________ x $40.00
10 x 10 Number of Spots _____________________ x $40.00
10 x 16 Number of Spots _____________________ x $50.00
15 x 20 Number of Spots _____________________ x $100.00

Deposit (FULL PAYMENT DUE PRIOR TO SET UP)
Make Checks Payable To:Grease, Steam, and Rust Association
**$25.00 FEE FOR RETURNED CHECKS**
NOTE: Set up day is Thursday, October 19. You must be on the grounds set up and ready to sell by 8:00 AM Friday, October 20, 2017. Stop in at GSR Office when you arrive to receive your spot number. **THE GOUNDS DO NOT HAVE AMPLE PLUG IN FOR EVERYONE'S ELECTRICAL CORDS. GENERATORS ARE WELCOME. BE CONSIDERATE. NO WATER HOOK-UPS ARE AVAILABLE FOR CRAFT OR FLEA VENDORS.
Important Contacts:
Lori Helser Amy Mellott
717-485-5192 717-485-5931
jlcs@pa.net amymellott@yahoo.com
Please fill out this vendor application and mail as soon as possible to retain your desired spot. You will be notified if you choice is no longer available upon receipt of your application and required funds. Please be sure to enclose atleast half of your lot fee. Thank you for your interest in our show.