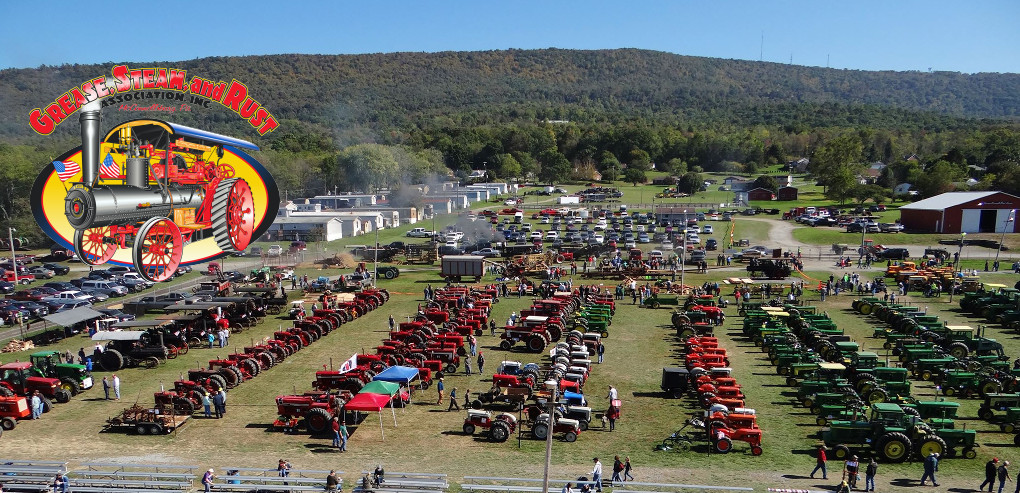 Home
Calendar Preview
Live Facebook Feed
COVID Update
The GSR is carefully monitoring the ever changing status of COVID stipulations put forth by the state of Pennsylvania. The GSR will have to consider the stipulations at the time and the manpower needed to stay within the guidelines. It is the hope of the GSR that the show will continue as planned without interruption. The final decision will be made on August 3,2020, the next GSR meeting.
Upcoming Events
All event information can be found on Facebook under Events and on our calendar ===>>
2019 Honorary Member!
Cleveland R. Forrester of Chambersburg, PA was selected by unanimous vote of the Fulton County Grease Steam and Rust Association (GSRA) members to be the Association's 2020 honorary member. He started with the GSRA about 2010 by showing his Ford 981. Then in 2012 he served as assistant to his cousin Harold Forrester, Show Chairman, for the GSRA's 2012 Ford Feature Tractor Show. He quickly became interested in becoming an active partner with the Fulton County people who were working to preserve and promote antique equipment and methods of operation.
Cleveland began farming in 1948 as a 7 year old on the family farm. He still farms that same farm. He graduated from Shippensburg State College in 1967 with a BS in Business Education and an MS in 1970. He served as the Business Manager of the Shippensburg Area School District from 1969 to 1980. He then worked in the Franklin County Controller's Office until 1983. Then he served as the Treasurer and Director of Finance and Chief Pension Funds Officer for the Borough of Chambersburg until he retired in 2006.
Cleveland became affiliated with Ford tractors in 1948 when he used the family's Ford 2N to pull a hay loader. Ford tractors have been in his blood ever since, especially since his Uncle Albert Forrester was the owner of Franklin County's Ford tractor dealership – Forrester Tractor Sales of Chambersburg, PA. He will be the first to tell you that he did not start out to be a collector. He simply has been farming for so long with the same dependable tractors and equipment that turned into being very good collectibles.
Cleveland and his wife Ruth, pictured above, have become fixtures at many of the GSRA events and work on the tractor registration desk at the Fulton County Fairgrounds during the Fulton Fall Folk Festival. They have become our unofficial ambassadors for the event. Cleveland has been encouraged over the past several years to see an increase in the number of younger people who have expressed an interest in continuing the legacy developed by the GSRA in preserving and promoting our agricultural heritage.
Parade Results
Best of Show: Doors of Hope Church
Floats
Dance Troops
Antique Cars

1st- FCAVTS

2nd- MMG Tree Survice

3rd- Warfordsburg FFA "Agvengers"

1st- Shooting Stars

2nd-The Spinning Illusions

3rd- Grace Gymnastics

1st- Craig Henry

2nd- Mark Rotz

3rd- Richard "Dick" Miller
Tractor Show Results
| | | | | |
| --- | --- | --- | --- | --- |
| Best of Lawn and Garden | Best of Open Class | Best of Open Tractor | Best of Feature | Steam Engines |
| | | | | |
Ott Award: Len Kern
Lucius Hann Award: Englert Family restored by Taylor Bishop
Best of the Worst: Knepper Family