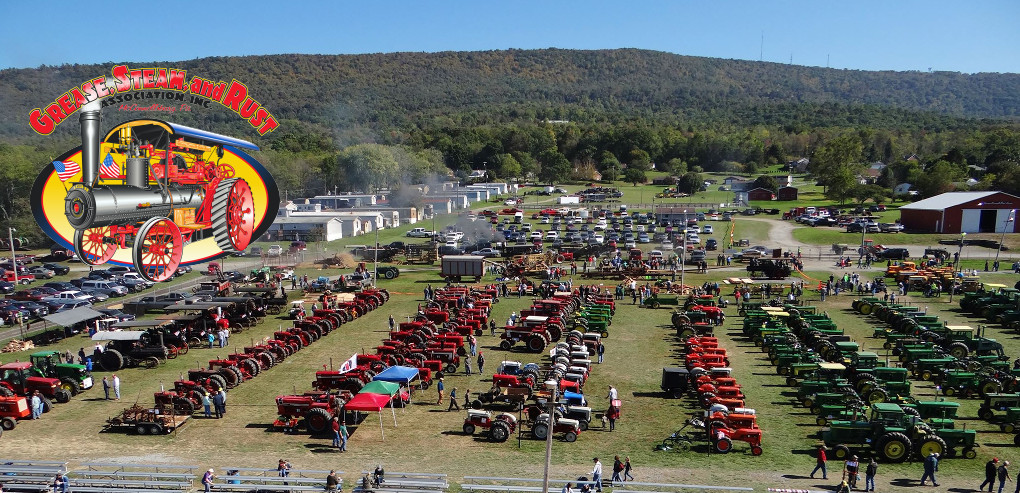 Home - 2017 Grease Steam and Rust Association Show Recap
Calendar Preview
Live Facebook Feed
This years Honorary member is Harry Helser.
(left to right) Jacob Helser, Joe Helser, Buck Helser, Harry Helser, Cory Helser.
Harry Helser joined GSR in the mid 1990s. He is best known for his efforts in maintaining and upgrading the pulling track at the McConnellsburg Fairgrounds. He and his family devote a lot of time and effort for the betterment of the Club and the maintenance of the grounds. Harry Helser & his family were instrumental in hauling the GSR feature tractor year after year around the state of Pennsylvania in effort to raise money for the GSR. Harry prides himself by making sure all he does for this organization is done in a timely manner and is done right the first time. He ensures all safety on the grounds and has donated countless hours and materials to ensure all can enjoy the annual show. In 2001 Helser established his business – Helser Excavating. After 15 years of dedication to his own business he decided to work for P&W in McConnellsburg PA. Harry is a true asset to the Grease Steam and Rust, who's abilities are hard to match. He sets the bar high and we as a Club are proud to call him our 2017 Honorary Member!! Thank You Harry!!
What a wonderful weekend Mother nature blessed us with for the 37th annual Grease Steam and Rust Association show featuring "Case". A beautiful backdrop of autumn colors painted on the Tuscarora mountain towered behind the fairgrounds. It didn't take long to fill the fairgrounds full of all makes and models of tractors and equipment!! Row by Row of red, green, orange, and yellow just to name a few, lined in order waiting to be inspected by all. Smells of fuel, coal burning and food filled the air. The sun shown down warming the faces of the spectators who entered for all the festivities making many shed their coats and hoodies, only to make those cover up again once in the cool shade of the main event tent and many buildings. The sounds of steam engines "popping off" with an occasional whistle and tractors growling filled the air along with the clanging and banging of demonstrations on the hill. Demonstrations on the hill included, thrashing, planing, bailing, stone crushing, saw milling, shingle milling, slab sawing just to name a few. Among these sounds you could hear spectators talk with amazement over what they were experiencing, some for the first time while others return annually in hopes to see what they missed from years passed. With 368 tractors and 18 other non tractor exhibits, there were no shortage of sights to be seen. The Apple Cider press demonstration provided and manned by the Lynch family sure provided many with the taste of the season. Just like last year the cider sold out!! Many enjoyed the sweet taste of this cider. The Cider press and the Lynch family will return next year with many anticipating it's return!!! Many watched the blacksmith as he used his forge, hammer and anvil to manipulate metal into many useful things!! The fiber group Tuscarora Kindred Spirits provided educational information about fiber processing and Dyeing. Along with spinning demonstrations, there were many kinds of spinning wheels and tools on display. Saturday Dan Daily was on hand to demonstrate sheep shearing and share his knowledge about shearing sheep without electricity. Many thanks to Kylene for providing four beautiful Shetland sheep for Dan's demo!! On Friday, Michelle brought her Angora bunny "Cream Puff" and Sunday she brought " Blue" for all to see and pet. Many were surprised to see that you can use the fiber from these furry friends and make yarn.
Friday's evening events started at 7 pm with the truck and Semi pulls. Drivers from all around brought their best "motor muscle" in hopes to win one of many trophies. What a show they displayed!! Loud engine roars could be heard from a great distance. The crowd watched in amazement as each truck went head to head with the Terminator Sled. Cheering filled the air as each truck took its turn moving the sled down the track. Some were lucky to leave the track without any assistance while others not so much.
Saturday morning the hustle and bustle of parade patrons could be seen as they scurry to line up for the annual parade that started at 10:30 am.
Check out this short video of our parade. It's just a taste of such a wonderful event!! This years Parade Grand Marshal was non other then Helen Overly!! She was one of the original visionaries who originated and promoted the Fulton Fall Folk Festivals. She took the liberty of writing and performing her original ditty. Enjoy the video here. Many individuals line Main Street to see the 100's of tractors, cars, bands, floats, and more that are included in the parade!! Categories for each entry are judged and the results can be found here. Children both young and old dance and wave in hopes to have candy thrown their way!! Many pointing out those they know who were in the parade. It is a joy for both spectators and patrons to partake in. With a parade that takes no less then 2.5 hours to complete, this is the best time to kick back and relax enjoying the sites you see.
After the parade the Horst family shared their talent for string instruments. They offered Bluegrass music for all to enjoy. Many sat by the stage listening to their melody!! Thank You to the Horst family for offering your musical talents. Many positive comments were expressed and we hope to enjoy more at future shows. If you or anyone you know would like to take advantage of the "Open Mic", please contact Amy Mellott at 717-658-8421.
The evening events for Saturday included tractor pulls. With the addition on the 5,500 8/12 MPH tractor class, spectators filled the stands well after 10:30 pm. At 8:00 pm the crowd grew quiet in anticipation for a spectacular site...the steam engine pulls!! With the lights out, the steam engines chug down the track, sparkles filled the air like little stars. There is nothing more beautiful then this!! Many return each year and still react as if it were their first time seeing such an event!!
Sunday, following our church service, the Antique and Classic tractors take their turn pulling the sled. Many enjoy watching this while eating and resting from all other festivities on the grounds. The kiddie pulls, many demonstrations and the variety of vendors provide many things for all to see and do. Sunday is also the day when all exhibitors check out their entries in hopes to find a ribbon or trophy. This is the day when the entries are judged. Categories include Best of Show for both feature and open class, Best of Show Steam engine, Best of show open tractor, Best of worst, Lucius Hann and Rankin Mellott Awards. What a joy it is to find a prize on these fine pieces of machinery!!
This year McConnellsburg Motor Implements sponsored the first pumpkin growing contest! We had 3 pumpkins entered and they were as follows:
Linda Mellott of Harrisonville PA. Linda's pumpkin weighed in at 59 lbs. and she scored 54 points out of a possible 60. (Photo – pumpkin to far right)
Ralph Schriever of Warfordsburg PA. Ralph's pumpkin weighed in at 30.5 lbs. and he scored 36 points out of a possible 60. (photo – pumpkin is in middle)
Tracy Deneen of Needmore PA. Tracy's pumpkin weighed in at 43.5 lbs. and she scored 33 points out of a possible 60. (photo – pumpkin is far left) Our judge was John Johnston of McConnellsburg. We sincerely thank John for his time & effort to bring this initiative to closure. (Photo – John is far left)
Check out this video recorded live from our 2017 show!! We would love to see you and am sure you will enjoy our show!! See you next year and remember the show is always the third weekend of October!!